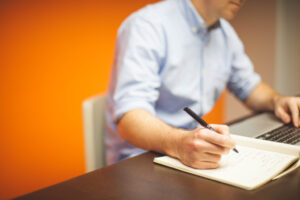 Steve Jobs had endless insight on not only how to succeed in what you do, but also the importance of enjoying it. Let's look back at memorable things he said and examples he set for the business world that could inspire you to go and achieve something great in the interpreting world.
"Innovation distinguishes between a leader and a follower. "
Innovate, make breakthroughs, build bridges to connect ideas, and you become a leader with the ability to make a difference.
"Great things in business are never done by one person. They're done by a team of people. "
The very role of interpretation requires the collaboration of multiple participants. Only with the work of several people can the ideas that are desired be communicated and turned into something more.
"Be a yardstick of quality. Some people aren't used to an environment where excellence is expected. "
Never settle for anything but your best. Set your own standard of high quality, no matter what the task is, and you will in turn receive more respect and credit to your work.
"Things don't have to change the world to be important. "
You may find yourself interpreting for a large international conference, or you may be interpreting between an employer and employee. Even if a job doesn't have a large-scale impact, it matters to someone, therefore, whatever interpretation you do is always important to someone!
"A lot of people in our industry haven't had very diverse experiences. So they don't have enough dots to connect, and they end up with very linear solutions without a broad perspective on the problem. The broader one's understanding of the human experience, the better design we will have. "
Here, broad perspective is key. Whether it is interacting with various cultures or interpreting on various subjects, having experience and knowledge on the topics you deal with is essential!
"That's been one of my mantras—focus and simplicity. Simple can be harder than complex; you have to work hard to get your thinking clean to make it simple. "
Two vital elements of interpretation: focus and simplicity. Making sure you remain concentrated and composed in stressful cases, while maintaining accurate and complete translations is a culmination of skill that is acquired with practice. Be as simple in your work as possible, so that no ideas get lost in translation.
"I'm convinced that about half of what separates successful entrepreneurs from the non-successful ones is pure perseverance. "
And the same goes for interpreters! If you don't surround yourself with new information and continue to learn, you are limiting how much you can offer to potential clients. Always strive to know more than you do, and you will be constantly preparing yourself for future opportunities and success.
"When you're a carpenter making a beautiful chest of drawers, you're not going to use a piece of plywood on the back. "
This metaphor relates again to the quality of your work. You may be able to get an idea across with minimal effort, but you never want to sacrifice accuracy. Instead, for your sake and your client's, make a conscious effort to relay the most precise interpretation that you can offer by forming complete thoughts, and remembering and transmitting all of the information.
"You have to trust in something - your gut, destiny, life, karma, whatever. This approach has never let me down. "
Trust yourself! You are interpreting because you have mastery level skills of a language. Even if you make a mistake, this fact does not change. The more that you trust in your ability, the less mistakes you will eventually make.
"Your work is going to fill a large part of your life, and the only way to be truly satisfied is to do what you believe is great work. And the only way to do great work is to love what you do. If you haven't found it yet, keep looking. Don't settle. As with all matters of the heart, you'll know when you find it. "
The best way to be good at what you do is to love what you do. If you value the benefits that an interpretation can have for people trying to accomplish goals and communicate ideas, then this attitude will come across in your action, and being great will come naturally.