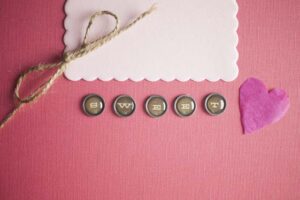 There are various traditions of Valentine's Day around the world, but the holiday has a universal theme of "Love" and for many is a special day to express their feelings. Showing how you feel about others with roses, chocolates, gifts, and cards are pretty standard, but let's take a look at some interesting customs that give us perspective on how other cultures differ from our own on this romantic day.
Valentine's Day in Germany has become popular over the last few decades and they celebrate the day in romantic fashion. Their Valentine's Day practices are similar to American customs with cards, treats, and flowers, but they have their own differences that stand out. One unique tradition is buying giant ginger cookies for significant others that have pet names and are known for direct phrases written on them including "kiss me" and "I love you." The enormous cookies are popular with young men as they are able to drape their cookie around their loved ones with pride.
In Japan, the holiday works a little differently from Western customs. On February 14, the women do all of the work and give their boyfriends, friends, and superiors chocolates. The quality of chocolate varies and it is assumed that the importance of the relationship will depict the quality of chocolate the men receive. A month later the men return the favor during what is known as "White Day" and the men shower their women with gifts and, of course, more chocolate.
Colombia's equivalent of Valentine's Day is their "Dia de Amor y Amistad" or "Love and Friendship Day." The holiday is celebrated in September with unique twists, but has the same universal spirit as Colombians are well known for their passion toward love and friendship. Some parts of the country play "el amigo secreto" or secret friend. In this tradition, someone with a romantic interest will give anonymous gifts to the one they care for then playfully reveal their identity later. Colombians differ from most countries by placing the same amount of emphasis on friendship – couples and singles commonly get together to celebrate their evening. So when the next September rolls around, make sure to spend time with your Colombian "parceros" and let them know what their friendship means to you!
So now that we have taken a look at some different traditions from around the world, feel free to leave a comment with your favorite Valentine's Day tradition whether you hail from America or any other part of the world!